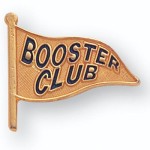 Over the past few years, the Bellevue Senior Community Center has experienced tremendous growth. As we continue to grow, we are always looking for new ways to improve the center. We strive to add activities and events, provide services to our area seniors, and give the seniors who attend our center a chance to get involved and give back; all the while keeping the senior center's costs and overhead low. Continuing to grow while faced with today's economy is not always an easy task.
Because of our growth, the Bellevue Senior Community Center has created another opportunity for seniors and others to support us, The Bellevue Senior Community Center Booster Club. The Booster Club is a 100% voluntary club that supports the efforts of the center. Effective July 1, 2017, the cost to belong to the Booster Club is $24 per year. Participation comes with some great benefits. After July 1, 2017 the cost will be ($2.00 a month).
The Booster Club idea was suggested by seniors who attend our center and participate in our Senior Advisory Council. These seniors felt strongly that we pursue this option and also felt that our Bellevue area seniors would understand the importance and need for this voluntary opportunity and support it.
We hope you will consider joining our Booster Club. For just $24 a year, you will be able to enjoy all the benefits we have to offer. Please complete the Booster Club Enrollment Form and return it to the Bellevue Senior Community Center with your $24 payment. Your membership will be valid from July 1, 2017 to June 30, 2018.